On 5 November, World Tsunami Awareness Day, the international community comes together to remember the lives lost to tsunamis, and to inform and protect over 700 million individuals living in areas vulnerable to ocean hazards around the world.
Message from Ms Audrey Azoulay, Director-General of UNESCO, on the occasion of World Tsunami Awareness Day, 5 November 2023.
UNDRR
Since 2016, advocacy around World Tsunami Awareness Day (WTAD) has called on countries, international bodies and civil society to raise tsunami awareness and share innovative approaches to risk reduction.
In 2022 UNDRR launched a new WTAD initiative, the #GetToHighGround campaign, activate citizen through participation in a drill, a run, or a walk along tsunami evacuation routes. These activities raise awareness about the importance of reducing tsunami risk, while motivating communities to prepare their own tsunami resilience. UNDRR open-access publication, World Tsunami Day #GetToHighGround Activation Toolkit, available at the WTAD website.
Coastal populations must be prepared to face tsunamis at all levels – so all lives can be saved, and all futures preserved. This also means addressing the inequalities that can make tsunamis more devastating for certain populations: isolated communities, migrants and refugees, women, children, people with disabilities, and the elderly.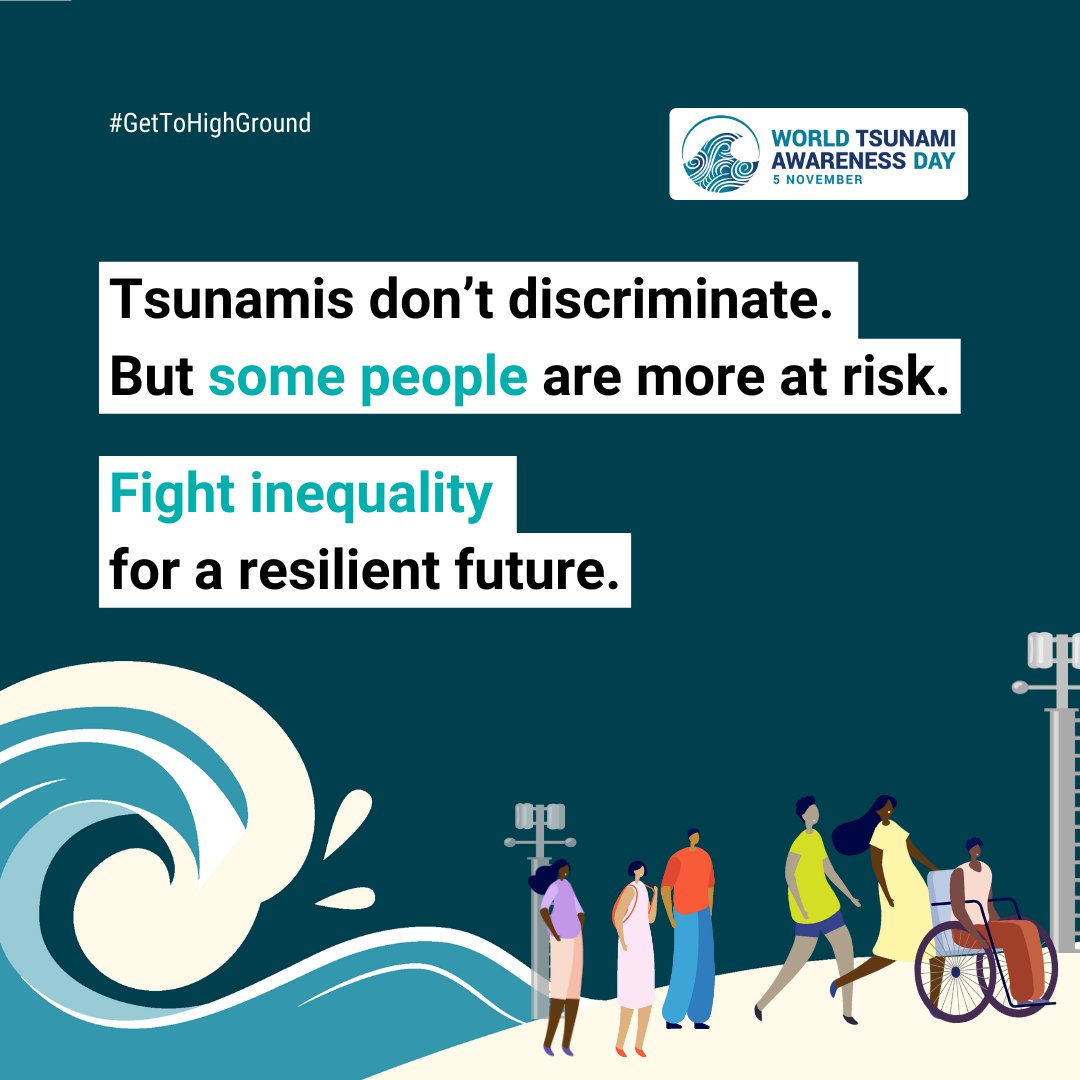 UNDRR
Therefore, on this World Tsunami Awareness Day, UNESCO and the United Nations Office for Disaster Risk Reduction are jointly calling for all individuals, schools and communities to raise awareness of tsunami risk – by sharing information and knowledge to overcome inequalities, by organizing drills, by taking part in simulation exercises and by walking tsunami evacuation routes, as part of the #GetToHighGround campaign.
In addition, within the United Nations Decade of Ocean Science for Sustainable Development (2021-2030), IOC/UNESCO working to extend the Tsunami Ready Recognition Programme to all at-risk communities by 2030, to build resilience to coastal hazard and risks. For more on UNESCO's tsunami early warning and preparedness efforts.
Strengthening the Resilience of Coastal Communities in the North East Atlantic, Mediterranean Region to the Impact of Tsunamis and Other Sea Level-Related Coastal Hazards (CoastWAVE) project, being implemented by IOC/UNESCO and funded by EU DG-ECHO, aims to strengthen the resilience of vulnerable coastal communities in North-East Atlantic, Mediterranean Tsunami Warning System (NEAMTWS) countries to tsunamis and other sea level-related hazards. The ultimate project's goal is to recognize seven partner coast communities of Büyükçekmece (Türkiye), Alexandria (Egypt), El Jadida (Morocco), Samos (Greece), Marsaxlokk (Malta), Chipiona (Spain) and Larnaca (Cyprus) as Tsunami Ready by mid-2024. 
For additional resources and to join the campaign
#Ocean&ClimateChange #OceanSciencePolicy #GetToHighGround